Princess is one of Kansas City's best kept secrets.
A diamond in the rough.

AHMAD ALAADEEN, VETERAN KANSAS CITY SAXOPHONIST
A Touch Of Class at 18th & Vine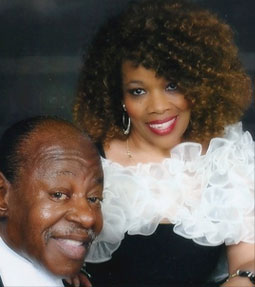 by Vanessa Barnard, Jazz Ambassador Magazine
Let's say your best friend in junior high pokes you in the ribs and gestures toward the young man across the room playing piano with the band ("The Carpets") in the school talent show. She whispers in your ear that he's her boyfriend. You think you know better, because after all, she is your best friend. You would know if she had a boyfriend. But then, as the band is leaving, that same young man comes over and kisses your friend on the cheek. You're speechless.
This is exactly what happened one day when Donald Cox and Patricia Lyons were first "an item." "It was love at first sight," they now say.
Although they went their separate ways after those school days, Donald and Pat reunited 15 years ago both as a couple and as business partners. Today Donald is still an accomplished pianist and vocalist, and Pat (or "Princess," a nickname given to her by Donald) has become well-known for a velvety voice that can turn into a lion's growl when singin' the blues. In live performance, each complements the other in a way that leaves no doubt there's a little bit more than just business involved here. When listening to the them sing "Unforgettable," it's clear that their love is here to stay. [more]
Press materials
A performance by "The Elder Statesman of Jazz" was upstaged by the marvelously entertaining antics of vocalist Patricia Lyons-Cox, who gave a memorable version of Nancy Wilson's "Guess Who I Saw Today."

BILL BROWNLEE, SPECIAL TO THE KANSAS CITY STAR
Don Cox & the Princess
Ain't That Loving You
Thou Swell 1:58 (Richard Rodgers & Lorenz Hart)
You'll See 5:06 (Carroll Coates)
Wave 2:55 (Antonio Carlos Jobim)
Ain't That Loving You 2:32 (Deadric Malone)
Almost Like Being In Love 1:56 (Alan Jay Lerner & Frederick Loewe)
Darling Please Save Your Love For Me 3:54 (Buddy Johnson)
Next Time You See Me 3:49 (Earl Forest & William G. Harvey)
Georgia On My Mind 3:53 (Hoagy Carmichael & Stuart Gorrell)
Fine And Mello 4:51 (Billie Holiday)
People 3:39 (Bob Merrill & Jule Styne)
On Green Dolphin Street 2:59 (Bronislau Kaper & Ned Washington)
Alfie 2:48 (Hal David & Burt Bacharach)
You Better Love Me 3:38 (Hugh Martin & Timothy Gray)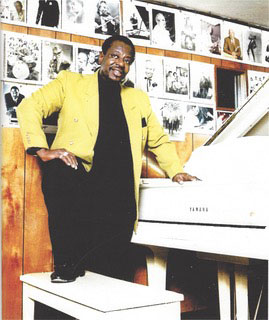 This CD is dedicated with appreciation and love to the first teacher who encouraged my talent as a singer: my husband Don Cox (Big Don) – R.I.H. I love you and I miss you. Not only was Don a great husband and dad, he was a consummate professional entertainer who has been displaying his diverse musical skill since the tender age of 13 when he made his professional debut. Don's first recording in 1963 resulted in the release of "Just Can't Win" and "What Can You Do For Me" on Chess Records with his group, The Carpets. Big Don performed with such luminaries as Jay McShann, Claude "Fiddler" Williams, Jimmy Witherspoon, Stanley Turrentine, and Eartha Kitt, just to name a few. Don studied arranging and orchestration under Willie Rice and wrote vocal arrangements for The Sincerest who later became Motown recording artist Blood Stone. His arranging skills are evident on this new CD release, Don Cox & The Princess: Touching You With Class, Ain't That Loving You.
Thanks to the following people for helping put this project together: Don Hatfield, Lee Watkins, Ram Swamenathin, Joseph Straws Jr, and Eugene Smiley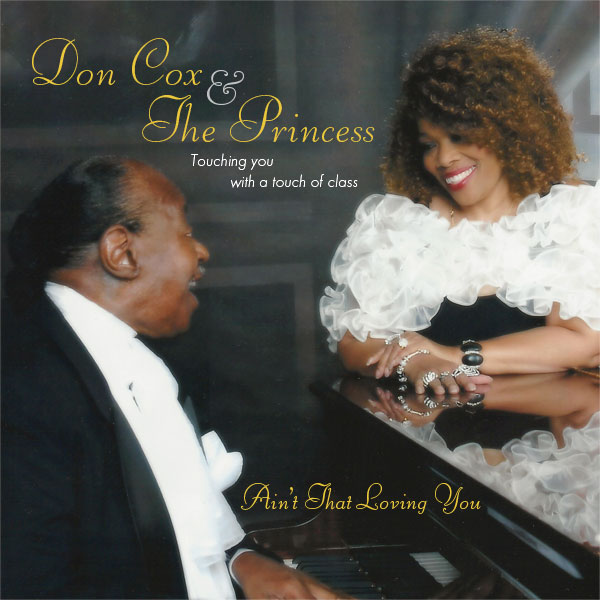 Patricia Lyons Cox – vocal
Don Cox – piano, keyboard, synthesizer, guitar
Joseph Straws Jr. – bass
Ram Swaminathan – drums
Horace Washington – tenor saxophone, flute
Don Hatfield – alto, tenor and bari saxophones
Lee Watkins – trumpet, flugelhorn
Arrangements by Don Cox and Patricia Lyons Cox
Horn arrangements by Don Hatfield and Lee Watkins
Produced by Don Cox and The Princess
Engineered, mixed and mastered by Andy Oxman at Sound Works Studio, Blue Springs, Mo.
Photography by Jerry Lockett
Design by Keith Kavanaugh, BauWau Design